Jessica Mendoza Responds to Sexist Criticism
As a huge Jessica Mendoza fan, I think this article is spot on. She has proven time and again that she not only understands the game, but can also analyze it with the best of them. She is a great role model for you women and softball players everywhere!
Jessica Mendoza Responds to
Sexist Criticism
Jessica Mendoza has done what any qualified, hard-working employee does — she was given a small opportunity, used her skills and knowledge fittingly, and has been rewarded with more responsibility and opportunity. Some people seem to have a problem with that all because she is a woman.

Every softball fan — and baseball fan — paying any attention this past month or so has heard Jessica Mendoza shattering glass as the first woman analyst on ESPN's "Sunday Night Baseball."

Jessica Mendoza kicks off her heels during a hitting breakdown on ESPN's "Baseball Tonight"

Mendoza broke into the male-dominated MLB broadcasting world August 24 of this year when she joined Dave O'Brien and Dallas Braden to call the Cardinals-Diamondbacks game that night. In an interview with Allure.com, Mendoza shared her thoughts and feelings about her historic moment.

"The attention it got was awesome. It would also be really cool to just get to the point where people think, Oh, wow, she knows her stuff. And he knows his stuff. It should be common knowledge that women and men can talk about sports."


At that point, ESPN still hadn't considered making the two-time Olympic medalist a regular for their Sunday Night Baseball staff. She was given that opportunity when then-regular analyst Curt Schilling was suspended for the rest of the season for comparing Muslim extremists to Nazis in an ill-advised tweet.

This past Tuesday, Mendoza become the first woman to call a MLB playoff game when she sat alongside John Kruk and Dan Shulman to provide color commentary on the Houston Astros-New York Yankees American League Wild Card Game.

John Wildhack, ESPN's executive vice president for programming and production, explained in an interview with The New York Times that he and ESPN are more than pleased with Mendoza's performance thus far.

"You can expect that she has earned and will have a prominent role in our baseball coverage. Her knowledge of the game is comparable to any baseball expert out there, and her knowledge of hitting might be the best of any analyst out there."

When an executive vice president of the preeminent global sports network says you're "The best of any analyst out there," there really should be little backlash on your qualifications. Not to mention that the four-time All-American Stanford Cardinal still holds most of the Cardinal's hitting records 14 years after graduating from the school. She probably knows what she's talking about.

It's a shame though that some baseball fans won't learn from Mendoza's expertise because of their extreme levels of ignorance and sexism.
Following Mendoza's playoff debut, idiotic backlash broke out on social media.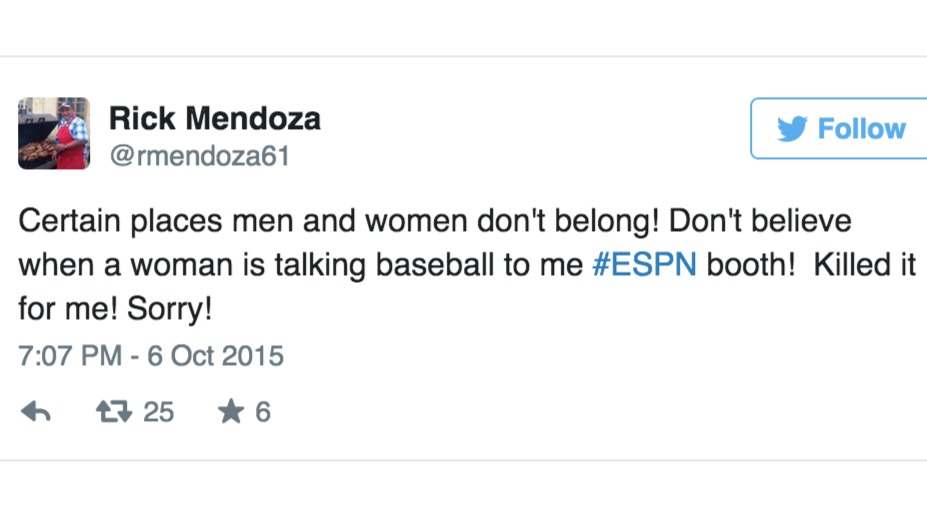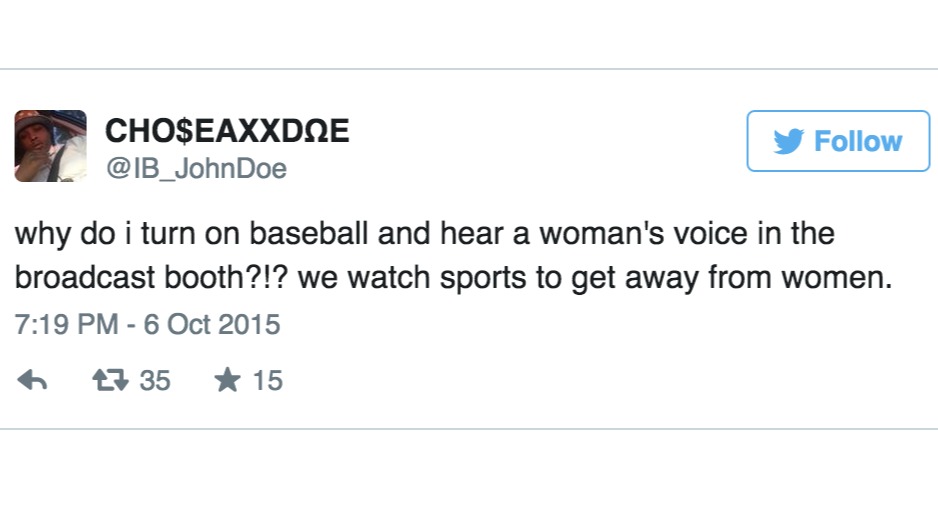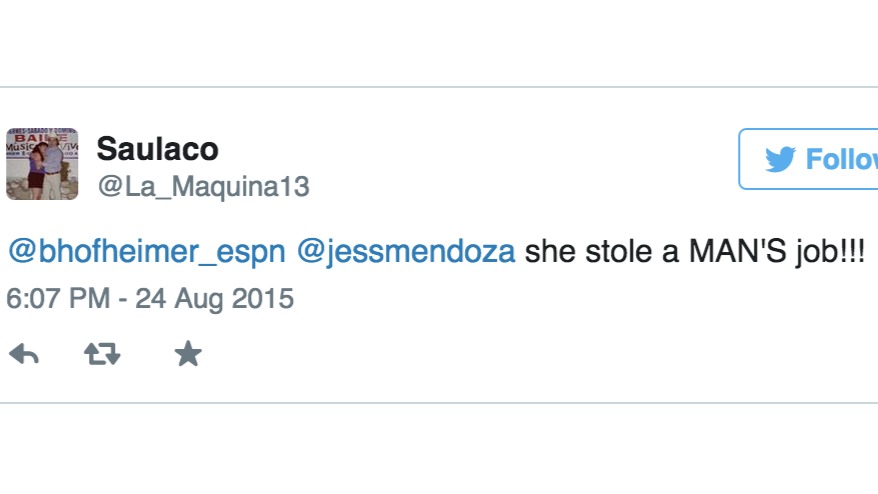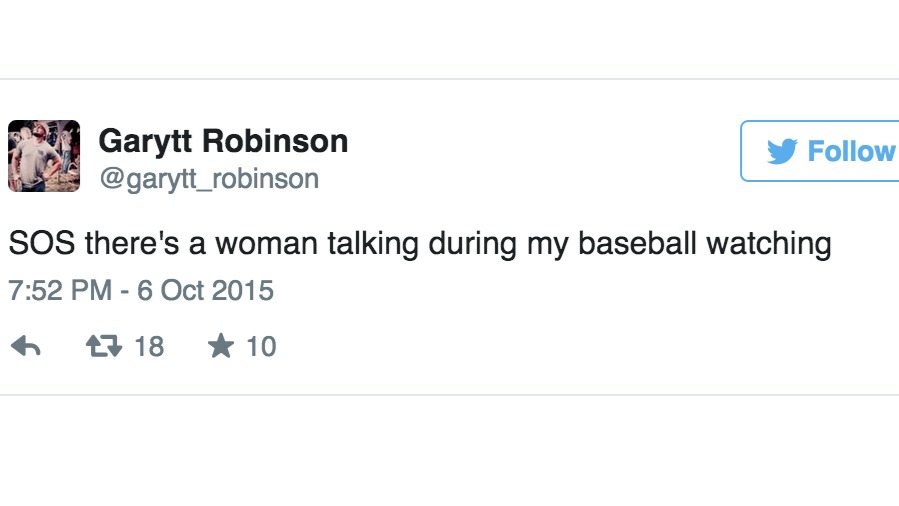 Most appalling was the response from a fellow broadcaster, Atlanta sports radio jock Mike Bell who was subsequently and rightfully suspended after his tweet.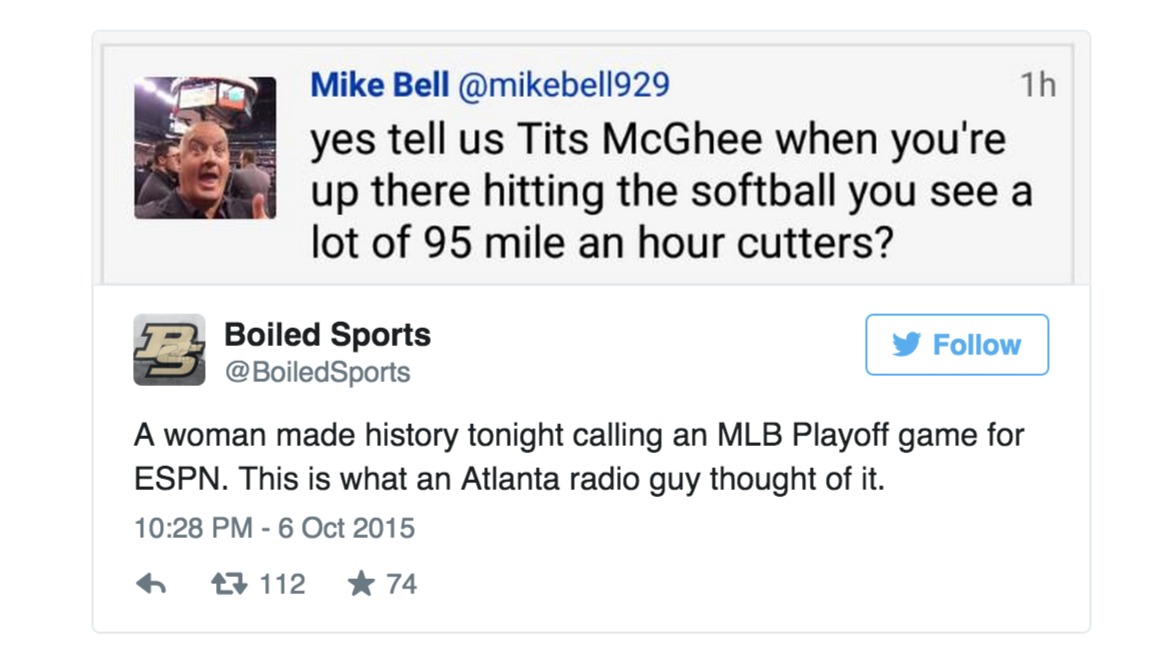 Anyone who really knows baseball and has listened to Mendoza call a game, knows that these senseless remarks hold no merit.
Mendoza herself has made the point to The New York Times that baseball and softball are similar enough games that crossover is possible. "My dad was a baseball coach, and then I switched to softball," she said. "Baseball was all I knew until I crossed over. It never seemed like a big deal…The sports are not exactly alike, but not different enough to where you can't successfully understand each one."
Mendoza, as well as other mature, open-minded adults, is having an understandably difficult time understanding why no one blinks an eye at a male coach or broadcaster in a women's sport, but the opposite is not well-received.

In an interview with BuzzFeed, Mendoza stated her case. "My college coach was a baseball guy. So why is no one questioning why a baseball player is coaching or analyzing softball when the reverse happens?"

When asked about how she is handling the criticism by allure.com, Mendoza had the perfect response.

"First off, it's been really cool how supportive everyone has been so far. I have definitely heard everything good and bad you could hear from people, and it doesn't bother me. Because when it's something like a tweet that says, 'Women don't know baseball; they shouldn't talk about baseball,' it's like,
'Ok, welcome to 2015. Where have you been for the last 20 years?'
Yes, Jessica, it is 2015 and immature, sexist remarks shouldn't still be hurled your way in a year that saw 10-year NCAA football referee Sarah Thomas hired as the NFL's first woman referee and former WNBA standout Becky Hammon join the San Antonio Spurs coaching staff. Hopefully sooner rather than later, quality of work —not gender or sex— will be the ultimate determinant of how one is judged in sports and every day life.